Deposits
Vernisaj of Comertbank. Art multiplication.
The vernissage deposits from deposits exposed Comertbank GOTIC, RENAISSANCE, BAROCCO and MODERN.
Different ways of accumulation of income and change in volume creates a wide range of warehouse storage and multiply your savings.
Choose the deposit that fits your style: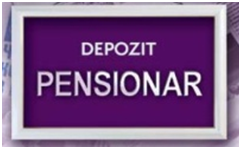 Deposit "PENSIONAR" - available only for pensioners - a sure guarantee of maintaining savings and a stable income. Deposit rate is fixed throughout the storage period. You can refill your account and if necessary can extract up to 10% of the balance in MDL and 5% in the EUR / USD. Study carefully the conditions of the deposit table. The minimum amount of deposit is 500 lei ($ 100 or 100 euros). Minimum term deposit – 6 months.
Deposit Calculator
Currency

Income (% annual) / Term (month)

Minimum amount
Refill
Withdrawal
6
12
25
MDL
3
-
-
500
min. 200 MDL
Yes
USD
1.0
1.5
-
100
Yes, min.100 USD
Yes
EUR
0.5
0.75
-
100
Yes, min.100 EUR
Yes