Deposits
Vernisaj of Comertbank. Art multiplication.
The vernissage deposits from deposits exposed Comertbank GOTIC, RENAISSANCE, BAROCCO and MODERN.
Different ways of accumulation of income and change in volume creates a wide range of warehouse storage and multiply your savings.
Choose the deposit that fits your style: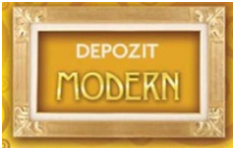 Deposit MODERN ideal for people who know how to plan for large acquisitions, but do not want to limit the growth of their savings.
Deposit MODERN. Modern trends in decoration and architecture were revolutionary in the early 20th century, today it is a normal pace of life. The main Art Nouveau experts believe freedom of expression of ideas. You can either deposit funds and withdraw each month (starting from the second) to 20% from the balance keeping the minimum required balance. Possibility of capitalization and floating rate comfortable for the person who is watching market trends. MODERN deposit gives an opportunity to get a substantial income and realize their plans.
Deposit Calculator
Currency

Income (% annual) / Term (month)

Minimum amount
Refill
Withdrawal
3
6
12
18
25
Yes
Minimal
Amount of replenishment
MDL
1
2.5
3.5
4
4.5
500
Yes
min. 200 MDL
Yes, 20% of the balance at the expiry of the first month (keeping the min balance)
USD
0.25
0.5
1.0
-
1.5
100
min. 100 USD
EUR
0.1
0.4
0.5
-
1
100
min. 100 EUR